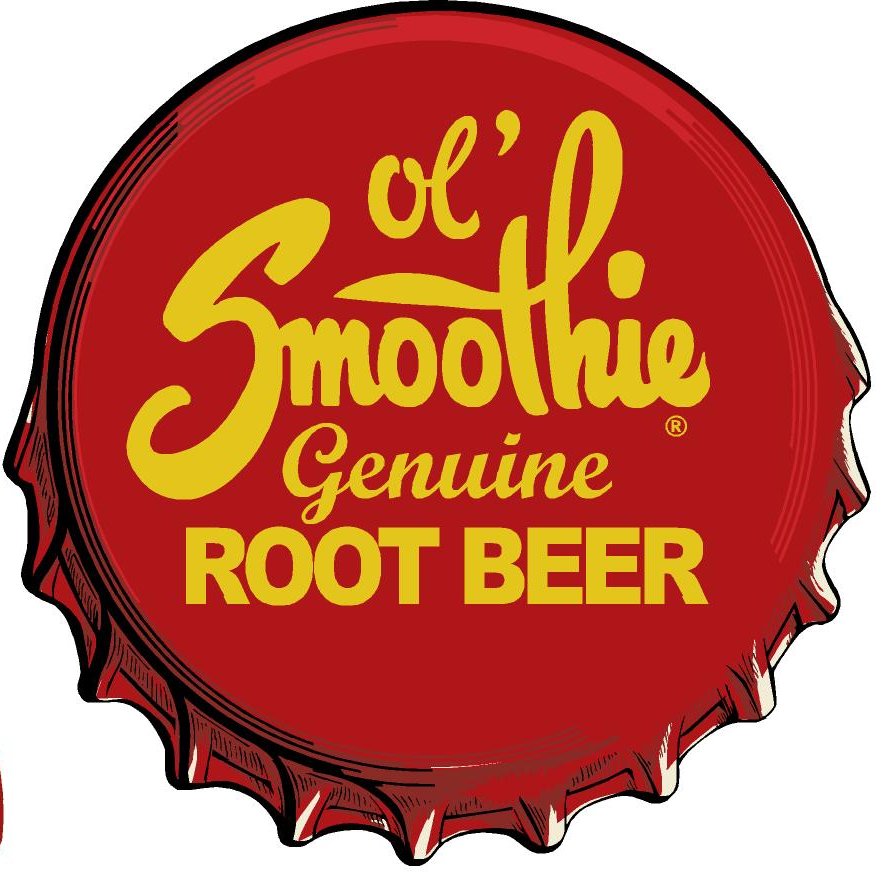 Ol' Smoothie Rootbeer was created and trademarked by the Nelson Family in 1953. Harold , Earl , Art, Edmund and Vern Nelson sought a need to introduce a new rootbeer to the world and hence OL' Smoothie was created.
After months of tasting different sugars, sweetners, flavor oils and other "Special" ingredients, the brothers settled on one flavor that was not only unique but simply was the best... One of the brothers commented on how SMOOTH the flavor was and Ol' Smoothie was born.
The Nelson brothers bottled the newly found flavor in it's Pine City Minnesota Bottling plant where they where already bottling Coca-Cola, Seven up and other national brands. The first packaging was the patented brown bottle which was popular amongst bottlers of that area... This thick brown Glass with bright yellow lettering really helped the product stand out and sell rapidly off the grocery store shelves, service stations and everywhere that Ol' Smoothie was available. Now being a small midwestern, family run business , Ol Smoothie was only distributed in a very small area , but we have found traces of the brand being consumed all over the country! The early packaging of brown bottle came in a 6 pack that matched in color, dark brown with yellow lettering. As years progressed and glass prices increased the bottlers switch to a clear version glass bottle but kept the original "ribbing" that the brown bottle had. A few years later the ribbing was costly to produce and a smooth sided bottle was created. Not to miss the STEEL can "craze" , Ol' Smoothie was also put in cans that adorned the popular brown and yellow color as seen on the earlier bottles.
Again being a small family owned brand and distribution limited mainly to 3-4 states, there was not much of a budget or a need for marketing materials... but a few small examples are known to exist. One is the upright easel back cardboard standup as noted in the photos below. One other piece of advertising was created, and until recently, this peice has never been seen by ME or other collectors... I only knew it existed from several talks with my Grandfather Harold Nelson before he passed. Up until around 2014 this cardboard was only a "Dream" to find, but in the summer of 2014 while out "Picking" at a local collectors place, I was going through is collection , looked up and saw the sign I had only heard about. After several negotiations and some trading of other collectables and cash I brought home the sign. I was told by the seller it had hung upstairs of the Rice Lake bottling plant at one time, but this was unconfirmed. This sign is pictured below, and i had a local graphic artist recreate the artwork to use on my Ol' Smoothie cooler.

Ol' Smoothie brand continued to be bottled in Pine City and later at the Rice Lake bottling Plant also owned by the Nelson Brothers until the Nelson operation was sold to Viking Coca Cola in 1986. The new owners had no interest in a family owned rootbeer so OL' Smoothie was discontinued.
If you every run across any Ol SMoothie advertising, cardboards, or carriers please let me know as I'd like ot add to my collection. Below are some samples of the bottles and advertising that was used for Ol' Smoothie Rootbeer as well as the bottles, cans and cardboard carriers.
Recently I restored an S&S floor cooler into the Ol' Smoothie Rootbeer brand. Now this cooler did not every make it into production, but I thought the concept looked very cool and it's now the centerpeice of my collection.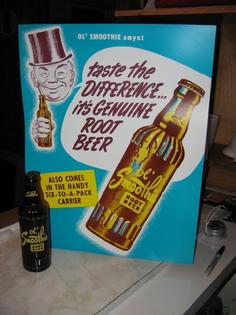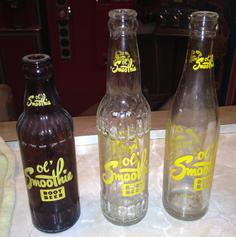 MY Ol' SMOOTHIE COLLECTION